SPECIALIZING IN COPPER, LEAD COATED COPPER, ZINC & PRE-PAINTED GALVANIZED GUTTERS, GUTTER COMPONENTS, AND ACCESSORIES
.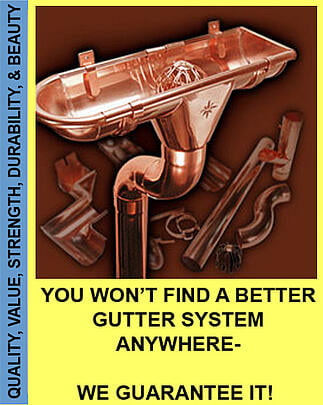 Slate And Copper Sales Co®. offers the most complete range of copper products. From our unique copper rain chains to our high quality copper gutters, we offer a wide selection of copper products that add elegance and class to your home. We also offer copper sheets and copper coil to manufacturers. With our original copper gutter system consisting of seamless downspout (downpipe) and gutter, heavy copper gutter hangers, and smooth seamless copper elbows, Slate And Copper Sales Co. has everything you'll need for your roof and beyond.
The World Gutter System is the highest quality and most economical roof drainage system. With perfectly fitting pieces, the World Gutter System is also the easiest to install. (For a complete installation manual, click here) This copper rain gutter system offers not only exceptional strength and durability, but absolute beauty and design. All of our gutter components are also available in zinc- a beautiful, less costly alternative to copper.
Browse our online catalog by selecting the product categories from the menu on the left, OR, to view product categories by photo, click on the "PRODUCTS" link above.
TO VIEW INSTALLATION EXAMPLES, VISIT OUR PHOTO GALLERY
Download Our Catalog, or Request a Printed copy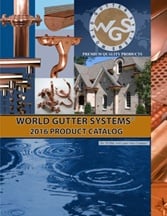 l
Buying the Best Copper Gutters and Copper Sheet for Your Project
Copper is a visually appealing metal with a unique character. It's high resistance to corrosion and thermal conductivity, ease of fabrication, strength and resistance to fatigue are all reasons to select copper. Common uses of copper in the construction industry include flashing, roofing and gutters. Copper gutters and copper sheets are readily available, and the following are tips you can use to buy the best material for your construction projects.
For copper gutters, look for products made from at least 16 ounces of cold rolled sheet copper. Cold rolling makes copper much stronger. A higher weight, such as 20 ounces, gives you a thicker wall, and it is a better choice if you live in a northern climate and anticipate ice and snow build-up or need long sections of gutter. Use appropriate fasteners, and select the shape and depth that works with your structure.
Copper is also commonly used for roofing, flashing and other ornamental applications on a building due to its visual appeal and durability. The natural weathering process causes "Patina", which protects the copper, lends itself to a color changing show from salmon pink and russet brown shades to light and dark chocolate browns. Eventually the color shifts to a dark bronze that ultimately develops copper's notable blue-green or gray-green patinas. Understanding this property is important in ornamental applications. When selecting copper sheets, keep the final product in mind. For intricate ornamental work, use lower gauge sheets that you can easily bend and shape. Copper cupolas are an excellent use of copper, and they provide a spectacular show through time with the natural weathering process.
If you desire an Aged look, use a chemical "patina" solution on your copper gutters that will accelerate the color to its final stage, that beautiful bright or blue green weathered finish that normally takes 15 to 20 years to achieve.
Select products that have a coating, such as oil, wax or paint, to keep the natural, weathered color that you want.
You can easily find the perfect copper gutter and roofing materials on our website. Follow the tips above, and enjoy the finished building for years to come.
Debit/Credit card payments subject to 3% surcharge.