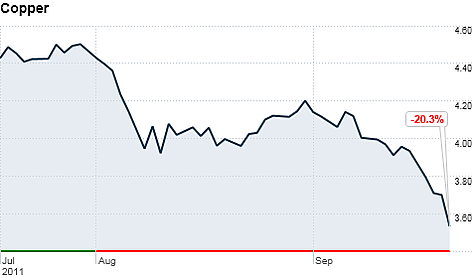 What do Copper Gutters have to do with Economic Forecasting? If your in the business of buying or selling Copper Gutters, then you probably understand the relationship.
Check this article about the price of copper and its relationship to the world economy...
NEW YORK (CNNMoney) -- "The sky is falling! The sky is falling!" That's what copper traders must be thinking today, as prices plunged more than 7% amid mounting fears that the global economic slowdown may turn into an outright recession.
Copper prices are closely followed as a key predictor of the economy since the base metal is used to manufacture goods ranging from cars to to computers to plumbing pipes.
Read the full article at... CNN Money
Dr. Copper
Copper is a closely watched economic barometer that many institutional investors often use. Now, when someone asks "What the heck does Copper have to do with the world economy?" you can say " Copper is the only metal said to have a PhD in Economics"